Hello Everyone
†
†
go to our FB Page for instant access !!
†
†

†
†
†
IF you have an event that you would like listed - great news†
the calander now works & YOU can submit it on line -
†
†
---
Hay Transport
Prompt & Reliable


† Very Reasonable Rates
Hay sourcing available, just tell us what you need
†
41' Semi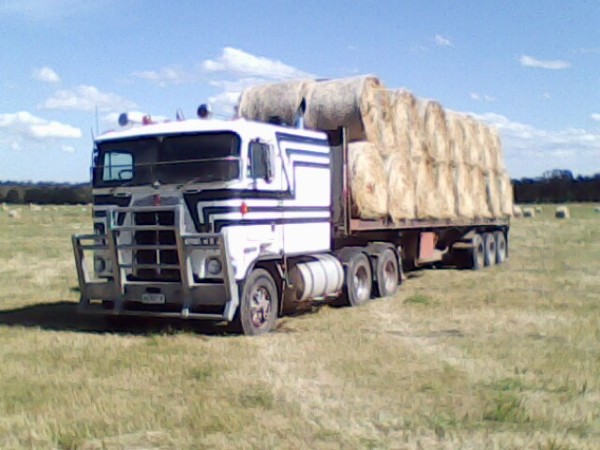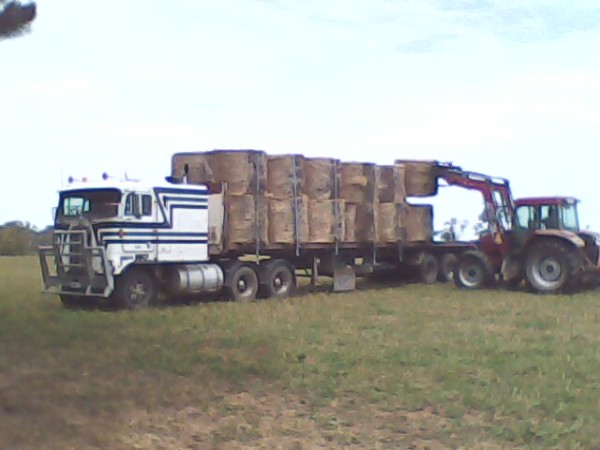 Based in Gordon, Vic
Service all Areas
†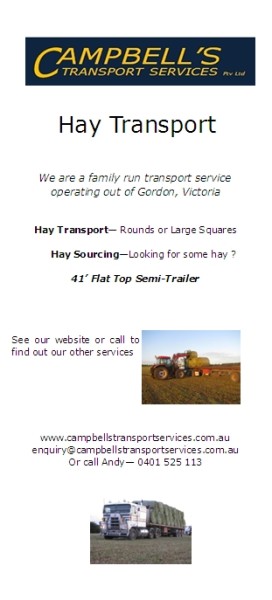 †
†
(PayPal payments accepted if you need / want to pay via credit card)
††
†
---
REFLECTIVE VINYL DECALS†
NOW AVAILABLE IN THE GIFT SHOP
TO KEEP YOU† & YOUR ANIMALS SAFE
& TO MAKE YOUR RIDE LOOK FANTASTIC
†
† or drop in at†
www.campbellstransportservices.com.au
for a growing range
†
See you there
†
†
---
PAT HAS A NEW HORSE THANK YOU TO EVERYONE FOR YOU HELP
†
†
Hi Janine
Thank you very much for speaking with me today.
One of my bushfire clients, Mike, a retired mounted policeman, had Paddy, a retired police horse, who in another life was known as Gendarme Viii the police rum horse. Since retirement, Paddy and Mike would attend various ceremonies around Victoria and interstate doing parades with pipe bands bands, Tattoos and ANZAC parades, etc.
Paddy made headlines during the Black Saturday bushfires up here in Myrtleford when he protected his little herd of sheep and goats by keeping them together behind him when the fires went through the property. Six months later, Paddy and Mike were out on a ride together when Paddy had a massive heart-attack and died on the spot.
Mike isnít in a position to buy another trained horse and still misses Paddy terribly. Is there anyone out there who isnít using a big, completely unflappable gelding that Mike could use as a drum horse? He would go to the best of homes and would be treated as a †family member. Mike is an expert police horse trainer and would teach the horse to carry the kettle-drums, how to go up and down the Australian War Memorial steps, and walk behind pipe bands. The horse MUST be bombproof because of people crowding around wanting to pat him after parades.
If anyone can help please call Pat on†
Thank you again Janine, Iíve attached photos separately of Mike and Paddy working.
Kind regards
Pat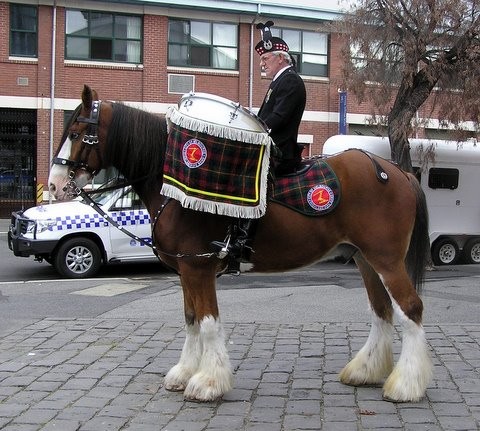 †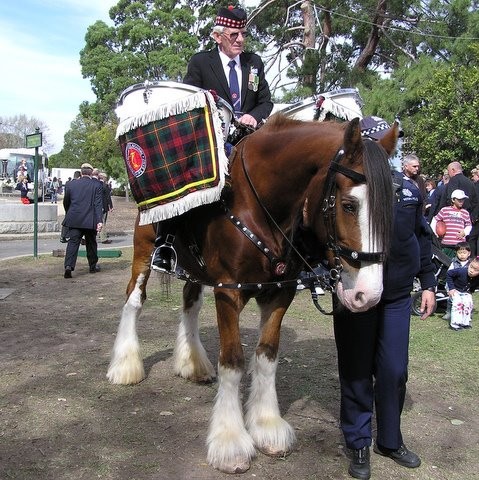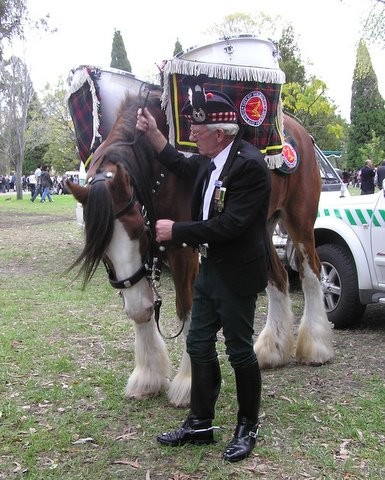 †
---
†
†
†
††
†
††
†